Ad blocker interference detected!
Wikia is a free-to-use site that makes money from advertising. We have a modified experience for viewers using ad blockers

Wikia is not accessible if you've made further modifications. Remove the custom ad blocker rule(s) and the page will load as expected.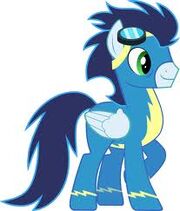 Soarin é uma personagem das series My Little Pony , ele é um membro dos
wonderbolts
. Ele é um dos Wonderbolts mais conhecidos , ele aparece em varios episodios na serie junto com
Spitfire
, um dos episodios ele estava na gala e foi comprar uma tarte de maca a banca de venda da
Applejack
e quando conversava com Spitfire ia deixando cair sua tarte mas
Rainbow Dash
o ajudou a recuperar a tarte.