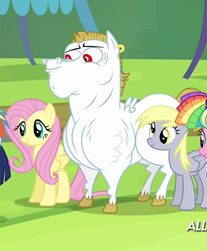 Snowflake é um pónei de fundo da series My Little Pony , ele e um ponei branco , gordo e musculado que apareceu pela primeira vez no episodio 22 da segunda temporada onde ele vai ajudar numa tarefa com os wonderbolts e muitos pegasus , o snowflake tem umas asas muito pequenas e uma marca especial de uma coisa de peso , pois ele e o unico ponei musculado que apareceu na serie , e ele tem umas asas muito pequenas e consegue voar. Ele atualmente e bem conhecido pelo episodio rainbow falls da temporada 4 com um nome diferente , e eles chamam o snowflake de Bulk Biceps.
Ad blocker interference detected!
Wikia is a free-to-use site that makes money from advertising. We have a modified experience for viewers using ad blockers

Wikia is not accessible if you've made further modifications. Remove the custom ad blocker rule(s) and the page will load as expected.