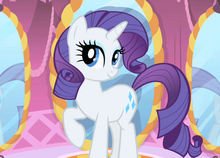 Rarity é uma personagem das séries My little Pony . Ela é outro unicórnio mágico , que gosta de estar sempre muito bem arranjada e bonita , de vez em quando ela faz muitos vestidos bonitos,ela acha a cor verde feia. Ela tem várias amigas , como Twilight Sparkle , Rainbow Dash , Applejack e Fluttershy. Ela também não é amiga da Trixie ,Spike tem uma quedinha por ela
Ad blocker interference detected!
Wikia is a free-to-use site that makes money from advertising. We have a modified experience for viewers using ad blockers

Wikia is not accessible if you've made further modifications. Remove the custom ad blocker rule(s) and the page will load as expected.